Thanks to Dave Murphy, crewmember 1946-48 who provides some memories and pictures of the Stonehorse, an iron ship built in 1892. The Stonehorse #53 was in service at Nantucket Sound from 1934 to 1951 near the southern end of Monomoy Island near the 'Handkerchief' and 'Pollock Rip' lightships.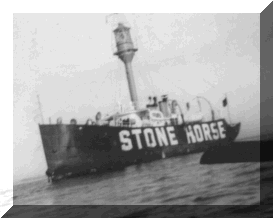 VESSEL DESIGNATION
LV 53 / WAL 501
' Formally known as Shovelful '
Shown on station in Nantucket Sound..

In 1939 the U.S. Lighthouse Service responsibilities were transferred to the U.S. Coast Guard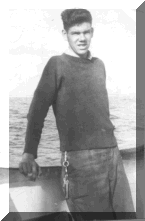 Motor Machinist Mate Dave Murphy was aboard the StoneHorse in 1947. Dave and the crew would motor ashore to Harwichport for supplies at Eldredge's Market and mail plus exchange four crew at a time. Rounding the point at Monomoy they woud DR a course to port. Fishing at the lightship consisted mainly of sand sharks so another type of fishing became popular. At night when the radio waves bounced off the ionosphere the crew would make contact with other Coast Guard Vessels around the world. The best catch was an Ice Breaker in the Antarctic.
Use of a 26 foot launch or a 16 foot dory would make for some fine striper fishing on the other side of Monomoy during Spring, Summer and Fall. One December 22nd while returning to the ship with mail and Christmas groceries they met with a nor'easter and ended up riding a swell over the dunes right into the small pond ( Powderhole ) where they secured the boat and spent 5 days in the lookout station just staying warm and dry. They eventually enjoyed a belated Christmas dinner aboard the ship.


DAVID MURPHY
A Tribute
By Rick Bennett
First and foremost, he sailed Stonehorse. I first met this man while stationed at Scituate station between 1973 and 1976 and we hit it off fairly well when he found out I had just been transferred there from the Portland LS. During these years, Dave sat in the communications center assisting any and all watch standers, and stood his own watches for the station, his knowledge of the waters off this area was and probably still is second to none. At night he would listen to the stations radio traffic, and when we were out on searches he would gather up some food, ham sandwiches, soda and the like and drive on down to Green Harbor waiting for the small boat to enter the harbor. He would walk out to the pier and hold out that bag of provisions not just a few times, but each and every time.... his memory on all the things of the past is still as sharp as a whip, and he still holds a few stories from the Stonehorse if we could just get them recorded for transcription to pc.
There was never another man to do so much for a group of people as Dave Murphy 'Murph'. He once took our coxswain home to shower after clearing lines out of the screws so he did not have salt rash at the end of the night. He helped some of the single men find places to rent so they did not have to live in a berthing area. And he managed to get a ride, see he can no longer drive, to come to Quincy to be with a group of people bound only by the fact that they all rode it out on the red ships. Dave Murphy was a sailor and shall be till he is gone.....Oh yeah, one other thing.... did you see him on the main deck of the Nan-1 last August....he was there. Back on a red boat once again. Want to know more, ask Doug Bingham.... they know each other well also..... funny, Dave seems to find out everything... has no computer but finds out about the reunion, known Doug, and many others.... Rick...
=
In February of 1942 while Stonehorse was in transit to Boston for a much needed repair and overhaul she was caught in a gale off Race Point ( Cape Cod ). Blowing out to sea and having completely paid out her anchor chain with no bottom in sight her engine and radio also became disabled. If five days of this was not enough she had a sudden visit from a German U Boat who no doubt thought he was 'off course' so submerged and was not seen again. A patrol plane spotted Stonehorse and a cutter was employed to retrieve her.
=
STONEHORSE #53
YEAR BUILT: 1892
BUILT AT: West Bay City (MI)
APPROPRIATION: $70, 000
BUILDER: J W Wheelan Co
CONTRACT PRICE: $53,325 ($213,300 for 4 ships)
SISTER VESSELS: LV 51,52,54
DESIGN: Iron hull and fastenings; 2 masts with spencers, 2 daymarks; stack ahead of mainmast; flushdecked aft to mainmast; hawsepipe thru stem, aligned with centerline of vessel
LENGTH: 1190" (loa); BEAM: 266"; DRAFT: 116"; TONNAGE: 375 displ, 310 gross
PROPULSION: Steam screw- single compound condensing engine, 14" & 24" bores x 16" stroke; 135 HP; 2 scotch boilers 8'dia x 9' lg; 50 psi; max speed 6 knots; coal capacity 52 tons; also rigged for sail carried on spencer masts
ILLUMINATING APPARATUS: 2 lanterns, each with 8 oil lamps w/reflectors
FOG SIGNAL: 12" steam whistle; hand operated 1000 lb beli
CONSTRUCTION NOTES - MODIFICATIONS - EQUIPMENT CHANGES & IMPROVEMENTS: LV 53
-During 1892-1907, and probably thereafter, ship was hauled annually for
scraping and painting; other needed repairs to hull, topsides, boilers and machinery being performed during these periods. The ship remained relatively free of
any major maintenance problems throughout her career
-1906: Propulsion changed from steam to Murray-Tregurtha kerosene engine
-1907: Submarine bell signal placed in operation
-1912: Equipped with radio
-1914: Masts replaced with single large diameter lantern mast amidships, equipped with acetylene lens lantern; pilot house added at foot of mast
-1930: Lantern converted to electric operation
-1932: Radiobeacon installed -1934 Fog signal changed to diaphragm horn
-1946: Jul 16-Oct 6, extensive overhaul at Curtis Bay MD, repowered with Superior diesel main engine, 151 HP, 310" propeller max speed 8 knots;
375mm lens lantern; F2T diaphone; cargo doors welded shut on both sides
STATION ASSIGNMENTS: LV 53 / WAL 501
1892-1896: Frying Pan Shoal (NC)
1896-1906: Martins Industry (SC)
1906-1923: Relief (SC)
1924-1933: Charleston (SC)
1933 Relief (SC)
1934-1951: Stonehorse Shoal (MA)

(Aug 1906-Feb 1907, performed temporary Relief duty in 1st and 2d Districts)
(1933 Jun 30, Charleston station discontinued)
(1942-1945 During WWII, remained on Stonehorse station; no armament provided)
HISTORICAL NOTES: LV 53 / WAL 501
-1892: Dec 1, placed on Frying Pan Shoal (NC) (replacing LV 29)
-1893: Safely rode out hurricanes in August and Octob~r although boats and
davits carried away and deckhouse demolished
-1896: Nov 11, withdrawn (replaced by LV 1); since marine railway facilities at
nearby Wilmington NC were not adequate_ derision was made to move LV 53 to
Martins Industry to be closer to maintenance facilities at Charleston SC
-1896: Dec 23, placed on Martins Industry
-1901: Comparison of 7 years maintenance costs between wooden LV 1 and iron LV 53
showed metal vessel was cheaper to maintain despite need for more frequent
hauling for chipping and painting
-1906: Removed from Martins Industry and assigned to Relief duty
-1906: Aug 16, sent to 1st and 2d Districts for temporary Relief assignments;
engine failed Jan 20 1907 off Sandy Hook while returning- to Charleston; towed
to 3d District for repair; departed NY Feb 2, arriving Charleston Feb 7
-1907: Feb 7, retained Relief status but used as tender until Apr 5, steaming
2, 860 miles; then resumed normal relief missions
-1924: Flared on Charleston (SC)
-1934: Transferred to 2d District and placed on Stonehorse Shoal (MA)
More notes: LV 53
-1936 Durinn severe winter storm, dragged several miles off station in moving ice field, regained station unassisted
-1948 While enroute to Boston, became caught in heavy ice in Buzzards Bay; later broken out by tender Spar
-Radio & visual radio call for the vessel listed as NMGA (1940--1951)
RETIRED FROM LIGHTSHIP DUTY: 1951; AGE: 59
SUBSEQUENT DISPOSITION: Decommissioned Jun 15, 1951 at Boston then towed to
Cape May NJ for final disposition. Sold Sep 15, 1951. The lantern mast and
large diameter lantern housing is located outside Giovi's Restaurant, Yardville,
NJ (1988)

COMMANDING OFFICERS: LV 53 / WAL 501
1896-1897: Antoni Neilson, Master
1897-1899: Axel Bergstrand, Master
1899-1906: Carl F Kellin, Master
1907: Henry B Foster, 2d Mate (additional Mate detailed to assist during
return voyage from Portland ME to Charleston SC)
1918-1919: Edward Stanley, Mate
1919-1922: Sofus Osmundsen, Mate
?-1925: Arnold Neilson Master
1922-1924: Harold T Brett, Mate
1925-?: George McKecuen, Master
1924-1929: James H Haynsworth, Mate
1929-?: Karl J Torstensen Mate
1946-1951: BMC Thurston L Peabody, OIC
---
[Lightship Index] [USCG Home Page]