Marshfield Post Office History
POST OFFICES - TOWN OF MARSHFIELD, MA
COUNTY OF PLYMOUTH, MASSACHUSETTS
" IN OUR PARENTS TIME "
BY; ROBERT F. CHEESEMAN (781) 837-3709 JANUARY 13, 1999
40 SOMERVILLE STREET, MARSHFIELD, MA 02050-4557
SOURCE; NATIONAL ARCHIVES AND RECORDS ADMINISTRATION, WASHINGTON, DC
1640 - 1940 MARSHFIELD TERCENTENARY COMMITTEE'S BOOK
1640 - 1990 MARSHFIELD VILLAGES BY CYNTHIA HAGAR KRUSELL, BETTY MAGOUN BATES

THE POST OFFICE OF MARSHFIELD (ALSO KNOWN AS SOUTH MARSHFIELD) WAS LOCATED ON ONE OF THE FIRST DIVISIONS OF COMMON LAND GRANTS OF THE TOWN TO TIMOTHY WILLIAMSON IN 1649.

HE BUILT AN ORDINARY BUILDING FOR LODGING, A TAVERN, AND GENERAL STORE (2000 - 2008 OCEAN STREET) LOCATED AT CENTENNIAL STREET, MORAINE STREET, AND OCEAN STREET.

TIMOTHY WILLIAMSON WAS LICENSED AS AN INNKEEPER BY THE COLONY COURT IN 1673. BEING AN INNKEEPER OF LODGING THIS WAS A GOOD DROP OFF FOR SOME ONE TO GET THEIR MAIL.

BACK IN THE EARLY COLONIAL TIMES (1639) THE FIRST OFFICIAL NOTICE OF A POST OFFICE HAD APPEARED AND WHY THE GENERAL COURT OF MASSACHUSETTS DESIGNATED RICHARD FAIRBANKS TAVERN IN BOSTON AS AN MAIL DROP.

THIS WAS AN OFFICIAL REPOSITORY OF MAIL BROUGHT FROM AND SENT TO OVERSEAS, THIS WAS THE PRACTICE OF OTHER NATIONS TO USE TAVERNS AND COFFEE HOUSES AS MAIL DROPS.

THE MAIL CAME TO MARSHFIELD BY A SINGLE HORSE DROWN WAGON CALLED A CHASE OWNED BY JEDEDIAH LITTLE THAT WENT FROM MARSHFIELD TO BOSTON.
LATER ON A TEAM OF HORSES AND A STAGE COACH OF THE DUXBURY MAIL WAS USED THAT CAME THROUGH MARSHFIELD TO A SCHOONER IN HINGHAM BAY.

FRANKLIN W. HATCH AND JOHN FLAVELL HAD A STAGE COACH SERVICE FROM MARSHFIELD TO BOSTON THEN THE TRAIN CAME THROUGH MARSHFIELD. WHEN THE TRAIN STOPED THE MAIL WAS PICKED UP FROM THE GREENBUSH TRAIN BY VARNUM GROTTO BY TRUCK AND DELIVERED TO ALL THE POST OFFICES OF MARSHFIELD.

THERE WAS A TIME THE POST OFFICE WAS LOCATED AT THE MARSHFIELD COMPANY STORE AT 52 MAIN STREET AND PLAIN STREET NOW KNOWN AS NEW MAIN STREET AND OLD PLAIN STREET. ALSO ACROSS THE STREET AT HENRY CROSSLEY'S OLD STORE THAT HAS SENCE BURNED DOWN IN A FIRE, TODAY THERE IS A BRICK APARTMENT BUILDING ON THE LAND.

MAIL WAS DELIVERED ONCE OR TWICE A WEEK THEN, TODAY THE POST OFFICE RECEIVES MAIL SIX TIMES A DAY PLUS MAILING COMPANY'S ARE DROPPING OFF MAIL ALSO FOR DELIVERIES FOR IN TOWN OR TO BE SHIPPED OUT OF TOWN FOR DELIVERIES.

CONTRACT ROUTE DRIVERS DELIVERING THE MAIL TO THE POST OFFICES FROM THE MAIL SECTIONAL CENTERS IN BROCKTON, MA AND PROVIDENCE, RI. MAKE ALL THESE DELIVERIES TODAY AND THE MAIL IS SORTED BY THE POSTAL CLERKS FOR DELIVERY BY THE LETTER CARRIERS FROM THE MARSHFIELD OFFICE.

MARSHFIELD WAS THE ONLY POST OFFICE IN TOWN AND THE OTHER (11) VILLAGE POST OFFICES WERE ESTABLISHED--
MARSHFIELD 02050 SEPTEMBER 11, 1800
NORTH MARSHFIELD 02059 JUNE 9, 1824
BRANT ROCK 02020 JUNE 4, 1878
GREEN HARBOR 02041 MAY 24, 1886
MARSHFIELD HILLS 02051 OCTOBER 28, 1890
OCEAN BLUFFS 02065 JULY 14, 1913

THESE ARE THE ONLY ACTIVE POST OFFICES IN TOWN, ALL THE REST OF THE POST OFFICES HAVE BEEN DISCONTINUED-
EAST MARSHFIELD - MARCH 23, 1837 TO OCTOBER 28, 1890
CENTRE MARSHFIELD - NOVEMBER 26, 1877 TO NOVEMBER 15, 1920
SEAVIEW (LITTLE TOWN) - JUNE 7, 1880 TO JUNE 30, 1922
CASTLE COVE - FEBUARY 2, 1886 TO SEPTEMBER 27, 1886
STANDISH - MAY 11, 1900 TO JUNE 4, 1900
REXHAM - JUNE 8, 1910 TO DECEMBER 31, 1915.

AUGUST 26, 1981 THE POSTMASTER CONSOLIDATED THE OCEAN BLUFF OFFICE 02065 TO THE MAIN POST OFFICE OF MARSHFIELD 02050.

THERE IS MENTION IN HISTORY BOOKS OF A POST OFFICE IN ONE OF THE THOMAS HOUSES IN THE CENTER OF TOWN AND I BELIEVE THE THOMAS FAMILY BOUGHT THE HOUSE FROM A FAMILY BY THE NAME OF LITTLE.

IN 1896 RURAL DELIVERIES WAS ESTABLISHED IN THE UNITED STATES, IN THE ORDINARY BUILDING MARSHFIELDS FIRST RURAL ROUTE 1 WAS ESTABLISHED IN (1926), THE CARRIER WAS GLEN HUBBARD AND IN SELECTMEN MINUTES OF 1928 AT THE OLD RAIL ROAD STATION AT CENTRE MARSHFIELD.

THE TOWN WAS BUILDING (SOUTH RIVER ROAD) NOW SOUTH RIVER STREET, GLEN HUBBARDS STATEMENT THAT THE STREET WAS IN BAD SHAPE AND HE COULD ONLY DRIVE 10-MILES PER-HOUR.

IN 1958 THE POST OFFICE HAD MOVED FROM THE ORDINARY BUILDING TO THE END OF STRATTON AVENUE (THERE WAS NO SNOW ROAD THEN AT THAT TIME). BECAUSE OF THE GROWTH OF THE TOWN AND MODERN SUBDIVISIONS LIKE SOUTH PORT, ADDITIONAL ROUTES WERE ESTABLISHED. RURAL ROUTES 2, 3, AND 4, THE CARRIERS WERE JOHN STEVENSON, EDWARD PHINNEY, AND FRED AMIDON.

MARSHFIELD WAS AN ALL-RURAL DELIVERY TOWN UNTIL DECEMBER 8, 1973 WHEN THE POST OFFICE ESTABLISHED THREE CITY ROUTES 6, 7, AND 8, CARRIERS WERE WILLIAM McGONAGLE, JOSEPH CREGHAN, AND RICHARD SHOULLA.

IN 1975 TWO MORE CITY ROUTES WERE ADDED 9, AND 10, CARRIERS WILLIAM McGONAGLE AND RODNEY ORD, WHILE CARRIER DAVID WETMORE TOOK OVER ROUTE 6 FROM WILLIAM McGONAGLE.

FROM 1958 TO 1973 THE POST OFFICE USED THE AMERICAN LEGION POST # 88 BUILDING AS AN ANNEX (ABOVE BONNIE PARKER'S LOUNGE) NOW RAFERTY'S PUB FOR THE PARCEL POST PACKAGES AT CHRISTMAS TIME.

FROM 1973 TO 1976 THE POST OFFICE OPENED THE ANNEX AT SNOW ROAD (NOW DR. LAWRENCE E. VIENNEAU DENTIST OFFICE). RETAIL SALES AND THE BOX MAIL WAS THE ONLY OPERATION IN THIS BUILDING, ALL THE DELIVERY MAIL AND THE CARRIERS STAYED AT THE STRATTON AVENUE OFFICE.

FEBRUARY 20, 1976 THE POSTAL SERVICE MOVED INTO THE POST OFFICE THAT IS NOW OPEN TO THE PUBLIC AT 111 SNOW ROAD.

BECAUSE THE TOWNS GROWTH ADDITIONAL ROUTES WERE ADDED, CITY ROUTES 5, 11, 12- RURAL ROUTES 15, 16, AND IN 1999 THERE WILL BE AN ADDITIONAL RURAL ROUTE 17.

THE U. S. POSTAL SERVICE HAS STREET DELIVERIES OF MAIL BY RURAL AND CITY CARRIERS TO THE FOLLOWING NUMBER OF CUSTOMERS- 7,555 AND THE FOLLOWING OFFICES BOX HOLDERS:
MARSHFIELD - 02050 1,380
NORTH MARSHFIELD - 02059 250
BRANT ROCK - 02020 708
GREEN HARBOR - 02041 772
MARSHFIELD HILLS - 02051 630
OCEAN BUFF - 02065 1,097
BUSINESS DELIVERIES 448

TOTAL NUMBER OF DELIVERIES TO THE CITIZENS OF MARSHFIELD 12, 723

THERE ARE 1,267 APARTMENTS ON DELIVERY IN THE TOWN OF MARSHFIELD WITH THE NEW TOWN BY-LAW ON CLUSTER HOUSING DELIVERIES WILL GROW AT A MUCH FASTER PACE, AND ADDITIONAL ROUTES WILL HAVE TO BE ADDED IN THE NEAR FUTURE.

THIS YEAR WILL BE THE 200 TH. ANNIVERSARY SEPTEMBER 11, 2000 OF MAIL SERVICE BY THE US POST OFFICE DEPARTMENT AND THE UNITED STATES POSTAL SERVICE TO THE TOWN OF MARSHFIELD.

A QUOTE FROM ONE OF MARSHFIELD'S MAIL CUSTOMERS 1832 - 1852.

" IT IS WISE FOR US TO RECUR TO THE HISTORY OF OUR ANCESTORS. THOSE WHO DO NOT LOOK UPON THEMSELVES AS A LINK CONNECTING THE PAST WITH THE FUTURE, DO NOT PERFORM THEIR DUTY TO THE WORLD "

- DANIEL WEBSTER -

BECAUSE OF THE NEW MILLENNIUM AND THE NEW TWENTY FIRST CENTURY IS THE REASON FOR THIS RESEARCH, AND I LOOK FORWARD TO THE FUTURE OF THE UNITED STATES POSTAL SERVICE AND MAIL SERVICE TO THE CITIZENS OF THE TOWN OF MARSHFIELD.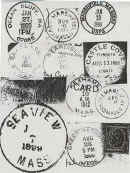 POST OFFICES POSTMASTERS
TOWN OF MARSHFIELD, MA., COUNTY OF PLYMOUTH, MASSACHUSETTS
BY: ROBERT F. CHEESEMAN (781) 837-3709
JANUARY 13, 1999
40 SOMERVILLE STREET MARSHFIELD, MA 02050-4557
SOURCE: NATIONAL ARCHIVES AND RECORDS ADMINISTRATION, WASHINGTON DC


1800 MARSHFIELD - 02050

NAME - TITLE - DATE APPOINTED

GEORGE KIETH POSTMASTER SEPTEMBER 11, 1800
JOSEPH HUNT POSTMASTER APRIL 6, 1802
ISSAAC PAINE POSTMASTER JANUARY 1, 1806
JABEZ HATCH POSTMASTER FEBUARY 25, 1811
NATHANIEL PRATT POSTMASTER FEBUARY 23, 1822
PROCTOR BOURNE POSTMASTER MARCH 21, 1823
GEORGE M. BAKER POSTMASTER JUNE 26, 1858
CHARLES M. HARLOW POSTMASTER SEPTEMBER 21, 1885
LUTHER P. HATCH POSTMASTER SEPTEMBER 21, 1889
CHARLES M. HARLOW POSTMASTER OCTOBER 27, 1894
AUGUSTUS P. BARSTOW POSTMASTER NOVEMBER 19, 1898
ALLISTON S. BARSTOW POSTMASTER JANUARY 9, 1905
PAUL CALLAHAN ACTING POSTMASTER DECEMBER 31, 1947
PAUL CALLAHAN POSTMASTER JUNE 2, 1949
MARQURITE J. LAST ACTING POSTMASTER OCTOBER 31, 1966
FRANCIS J. SULLIVAN POSTMASTER OCTOBER 2, 1968
JAMES E. HAWLEY OFFICER - IN - CHARGE JUNE 30, 1972
JAMES E. HAWLEY POSTMASTER DECEMBER 23, 1972
JOSEPH F. PITTMAN OFFICE - IN - CHARGE MAY 1, 1985
EDWARD L. FONSECA JR POSTMASTER AUGUST 31, 1985
ROBERT M. KINAN OFFICER - IN - CHARGE MAY 29, 1999
ROBERT M. KINAN POSTMASTER AUGUST 14, 1999


1824 NORTH MARSHFIELD POST OFFICE - 02059
NAME TITLE DATE APPOINTED
DANIEL PHILLIPS POSTMASTER JUNE 9, 1824
MOSES F. ROGERS POSTMASTER OCTOBER 9, 1839
DANIEL PHILLIPS POSTMASTER AUGUST 18, 1841
MOSES F. ROGERS POSTMASTER FEBUARY 16,1846
CONSTANT OAKMAN POSTMASTER OCTOBER 28, 1850
DANIEL PHILLIPS POSTMASTER APRIL 4, 1861
NATHAN C. PHILLIPS POSTMASTER AUGUST 14, 1862
HENRY P. OAKMAN POSTMASTER NOVEMBER 18, 1864
BENJAMIN HATCH POSTMASTER JULY 7, 1868
ROXALINA HATCH POSTMASTER NOVEMBER 14, 1877
CARLETON G. TILDEN POSTMASTER JULY 14, 1900
CORA B. TILDEN POSTMASTER JANUARY 22, 1913
FLORENCE J. EWELL POSTMASTER AUGUST 6, 1935
VERNA P. HARRINGTON ACTING POSTMASTER JUNE 5, 1947
VERNA P. HARRINGTON POSTMASTER JUNE 10, 1948
JAMES W. LUNDRIGAN OFFICER - IN - CHARGE MARCH 25, 1977
ROBERT D. KELLEHER OFFICER - IN - CHARGE AUGUST 12, 1077
THOMAS L. GAVIN OFFICER - IN - CHARGE JANUARY 16, 1978
ANTHONY FEDERICO OFFICER - IN - CHARGE MAY 8, 1978
JOHN D. MALONEY OFFICER - IN - CHAGE MAY 11, 1978
ERNEST A. CHANDLER OFFICER - IN - CHAGE NOVEMBER 3, 1978
ROBERT D. KELLEHER POSTMASTER JANUARY 27, 1979
STANLEY G. KROLL JR. OFFICER - IN - CHARGE DECEMBER 8, 1984
LEO G. BOWEN OFFICER - IN - CHARGE AUGUST 15, 1986
STANLEY G. KROLL JR POSTMASTER OCTOBER 25, 1986


1837 - 1890 EAST MARSHFIELD POST OFFICE
NAME TITLE DATE APPOINTED
JOHN TILDEN POSTMASTER MARCH 23, 1837
CALVIN AMES POSTMASTER JUNE 23, 1849
ELESHA W. HALL POSTMASTER SEPTEMBER 16, 1850
NATHANIEL MORSE POSTMASTER MARCH 31, 1854
TILDEN HALL POSTMASTER MARCH 16, 1855
CALVIN DAMON POSTMASTER AUGUST 1, 1861
ALMIRA L. DAMON POSTMASTER NOVEMBER 11, 1865
" CHANGED TO MARSHFIELD HILLS POST OFFICE ON OCTOBER 28, 1890 "


1877 - 1920 CENTRE MARSHFIELD POST OFFICE
NAME TITLE DATE APPOINTED
BENJAMIN F. KEENE POSTMASTER NOVEMBER 26, 1877
FLORENCE L. KEENE POSTMASTER OCTOBER 19, 1914
DISCONTINUED ON NOVEMBER 15, 1920
MAIL TO SEAVIEW POST OFFICE.
SEAVIEW POST OFFICE WAS DISCONTINUED ON JUNE 30, 1922
MAIL TO MARSHFIELD POST OFFICE


1878 BRANT ROCK POST OFFICE - 02020
NAME TITLE DATE APPOINTED
ELLEN P. KILEY POSTMASTER JUNE 4, 1878
DISCONTINED ON COTOBER 7, 1878
RE-ESTABLHED ON MARCH 7, 1879
ELLEN P. KILEY POSTMASTER MARCH 3, 1879
ELLEN P. REED POSTMASTER JUNE 30, 1884
WALTER PETERSON POSTMASTER SEPTEMBER 14, 1887
JULIA C. PETERSON POSTMASTER AUGUST 18, 1915
MARGARET FLETCHER ACTING POSTMASTER DECEMBER 31, 1948
MARGARET FLETCHER POSTMASTER NOVEMBER 21, 1949
ALTHEA F. STAPLES ACTING POSTMASTER NOVEMBER 2, 1956
ALTHEA F. STAPLES POSTMASTER APRIL 2, 1958
BERNARD A. COBB OFFICER - IN - CHARGE NOVEMBER 30, 1971
EDWARD L. FONSECA JR. POSTMASTER FEBUARY 19, 1972
ERNEST A. CHANDLER POSTMASTER JULY 21, 1984
JOHN M. DONAHUE OFFICER - IN - CHARGE 1985
ELEANOR M. FOLEY OFFICER - IN - CHARGE JANUARY 31, 1986
ELAINE MCGUIRE OFFICER - IN - CHARGE JUNE 27, 1986
STANLEY FROLL JR. OFFICER - IN - CHARGE OCTOBER 17, 1986
NANCY A, KEENAN OFFICER - IN - CHARGE OCTOBER 31, 1986
DIANE M. COOK POSTMASTER NOVEMBER 22, 1986
MARIE A. RANSOM OFFICER - IN -CHARGE FEBUARY 15, 1995
ALFRED C. BERGLUND POSTMASTER AUGUST 19, 1995


1880 - 1922 SEAVIEW POST OFFICE
NAME TITLE DATE APPOINTED
GEORGE G. CURRELL POSTMASTER JUNE 7, 1880
WILLIAM W. RANDALL POSTMASTER FEBUARY 23, 1886
RALPH C. EWELL POSTMASTER JULY 28, 1897
PERCY T. STEVENS POSTMASTER JANUARY 3, 1907
GEORGE P. RICE POSTMASTER JANUARY 8, 1915
JAMES J. LAMBERT POSTMASTER FEBUARY 17, 1917
LYMAN S. KENT POSTMASTER OCTOBER 7, 1920
DISCONTINUED ON JUNE 30, 1922
MAIL TO MARSHFIELD POST OFFICE.


1886 - 1886 CASTLE COVE POST OFFICE
NAME TITLE DATE APPOINTED
HENRY P. TAYLOR POSTMASTER FEBUARY 12, 1886
DISCONTINUED ON SEPTEMBER 27, 1886
MAIL TO GREEN HARBOR POST OFFICE.

1886 GREEN HARBOR POST OFFICE - 02041
NAME TITLE DATE APPOINTED
CHARLES SEARS POSTMASTER MAY 24, 1886
WILLIAM W. SEARS POSTMASTER MARCH 31, 1891
CHARLES W. MCLAUTHLIN POSTMASTER MAY 3, 1901
LYDIA C. MCLAUTHLIN POSTMASTER JULY 22, 1915
SARAH G. SAMPSON ACTING POSTMASTER DEC. 11, 1934
SARAH G. SAMPSON POSTMASTER JULY 2, 1935
JEROME A. GALLANT ACTING POSTMASTER APRIL 17, 1954
JEROME A. GALLANT POSTMASTER MARCH 9, 1955
ERNEST A. CHANDLER OFFICER - IN -CHARGE JULY 6, 1976
THOMAS E. CANADA OFFICER - IN - CHARGE MAY 19, 1978
GERALD L. KEATING OFFICER - IN - CHARGE NOV 17, 1978
BRUCE WESTCOTT POSTMASTER JULY 28, 1979
CHARLES E. KOWALSKI OFFICER - IN - CHARGE JUNE 11, 1982
PATRICA E. GOOGAN OFFICER - IN - CHARGE OCTOBER 8, 1982
ALFRED J. CARREGAL OFFICER - IN - CHARGE FEBUARY 4, 1983
JOHN M. DONAHUE OFFICER - IN - CHARGE MAY 6, 1983
GEORGE R. LEAVER OFFICER - IN - CHARGE AUGUST 26, 1983
ROBERT P. CALLAHAN OFFICER - IN - CHARGE JULY 20, 1984
PATRICIA E. MCCORRY OFFICER - IN - CHARGE OCTOBER 1, 1984
DAVID A. FLINT OFFICER - IN - CHARGE 1986
HELLEN KELLEY OFFICER - IN - CHARGE JUNE 27, 1986
MOIRA E. FANNING OFFICER - IN - CHARGE OCTOBER 24, 1986
GEORGE R. LEAVER POSTMASTER NOV 22, 1986


1890 MARSHFIELD HILLS POST OFFICE - 02051
ORIGINALLY ESTABLISHED 1837 AS EAST MARSHFIELD POST OFFICE
CHANGED TO MARSHFIELD HILLS ON OCTOBER 28, 1890
NAME TITLE DATE APPOINTED
S.ELLA DAMON POSTMASTER AUGUST 11, 1890
CARRIE CARVER POSTMASTER AUGUST 19, 1915
MARJORIE C. PURDY POSTMASTER AUGUST 14, 1926
MARJORIE C. PURDY'S NAME WAS CHANGED TO MARJORIE C. SHREINER BY MARRIAGE ON OCTOBER 7, 1945
MILDRED C. AINSLIE ACTING POSTMASTER DECEMBER 30. 1965
MILDRED C. AINSLIE POSTMASTER AUGUST 25, 1967
BETTY J. BABCOCK OFFICER - IN - CHARGE MARCH 6, 1981
JOSEPH A. COLLINS POSTMASTER JULY 11, 1981
WILLIAM WAYNE OFFICER - IN - CHARGE APRIL 23, 1998
LINDA M. RYAN OFFICER - IN - CHARGE JULY 7, 1998


1900 - 1922 STANDISH POST OFFICE
NAME TITLE DATE APPOINTED
JOHN G. FISHER * POSTMASTER MAY 11, 1900
ANDREW R. MAGOUN POSTMASTER JUNE 4, 1900
BEULAH S. HOLMES POSTMASTER JULY 18, 1912
ERNEST G. JOHNSON POSTMASTER JUNE 11, 1913
FRANK E. TAYLOR POSTMASTER JUNE 25, 1914
* JOHN G. FISHER WAS APPOINTED POSTMASTER BUT DID NOT SERVE
ANDREW R. MAGOUN WAS THE FIRST TO SERVE AS POSTMASTER OF
STANDISH POST OFFICE
DICONTINUED ON JANUARY 14, 1922
MAIL TO MARSHFIELD POST OFFICE.


1910 - 1915 REXHAM POST OFFICE
NAME TITLE DATE APPOINTED
LUCY T. AMES POSTMASTER JUNE 8, 1910
DISCONTINUED ON DECEMBER 31, 1915
MAIL TO MARSHFIELD POST OFFICE.


1913 OCEAN BLUFF POST OFFICE - 02065
NAME TITLE DATE APPOINTED
CHARLES A. WHITMAN POSTMASTER JULY 14, 1913
CHARLES G. SRARRATT ACTING POSTMASTER DEC. 22, 1922
CHARLES G. STARRATT POSTMASTER JANUARY 30, 1923
JEAN T. NELSON ACTING POSTMASTER JULY 31, 1955
JEAN T. NELSON POSTMASTER APRIL 16, 1956
JEAN T. NELSON'S NAME WAS CHANGED TO JEAN T. FLAGG BY MARRIAGE ON FEBUARY 28, 1960.
DOROTHY B. GRIFFITHS OFFICER - IN - CHARGE JUNE 26, 1970
FRANCIS J. CHIMI POSTMASTER DECEMBER 9, 1972
LORRAINE F. JANICKI OFFICER - IN - CHARGE JANUARY 10, 1973
JOHN P. WHYTE POSTMASTER APRIL 28, 1973
HAZEL GUNN OFFICER - IN - CHARGE DECEMBER 19, 1975
FRANCIS D. TOBIN OFFICER - IN - CHARGE MAY 20, 1977
JAMES W. LUNDRIGAN OFFICER - IN - CHARGE SEPTEMBER 23, 1977
WINIFRED HENDERSON OFFICER - IN - CHARGE JANUARY 16, 1978
THOMAS L. GAVIN OFFICER - IN - CHARGE MAY 8, 1978
JOHN D. MALONEY OFFICER - IN - CHARGE NOVEMBER 3, 1978
ERNEST A. CHANDLER POSTMASTER FEBUARY 24, 1979
THIS OFFICE WAS CONSOLIDATED WITH THE MARSHFIELD POST OFFICE ON JUNE 26, 1981.


1913 HUMAROCK POST OFFICE - 02047
PART OF THE TOWN OF SCITUATE - 02066
PART OF THE MAIL IS DELIVERED OUT OF THE
MARSHFIELD POST OFFICE - 02050
NAME TITLE DATE APPOINTED
DANIEL W. CLARK POSTMASTER FEBUARY 19, 1913
WEBSTER C. CLARK ACTING POSTMASTER APRIL 15, 1930
WEBSTER C. CLARK POSTMASTE DECEMBER 18, 1930
PATRICIA HOEG OFFICER - IN - CHARGE OCTOBER 31, 1969
PATRICIA (HOEG) BEALS POSTMASTER MARCH 20, 1971
WILLIAM A. CHATFIELD OFFICER - IN - CHARGE JUNE 3, 1977
WILLIAM HENDERSON OFFICER - IN - CHARGE OCTOBER 7, 1977
JAMES W. LUNDRIGAN OFFICER - IN - CHARGE JANUARY 16, 1978
ROBERT A. CAMPARLLI OFFICER - IN - CHARGE FEBUARY 6, 1978
ERNEST A. CHANDLER JR. OFFICER - IN - CHARGE MAY 19,1978
WILLIAM A. CHATFIELD POSTMASTER OCTOBER 7, 1978
RICHARD MAGGIANI OFFICER - IN - CHARGE AUGUST 8, 1980
ARTHUR S. BATES OFFICER - IN - CHARGE FEBUARY 6, 1981
MILLICENT L.HAMILTON OFFICER - IN - CHARGE MAY 1, 1981
ROSWELL S. CLARK OFFICER - IN - CHARGE AUGUST 21, 1981
ROBERT W. WHITE POSTMASTER OCTOBER 17, 1981
WILLIAM BRENNAN OFFICER - IN - CHARGE JANUARY 31, 1986
JOAN M. BUTLER POSTMASTER MARCH 15, 1986
BRUCE WESCOTT POSTMASTER MARCH 1, 1999

POSTAL EMPLOYEE'S OF THE TOWNS POST OFFICES
THERE MAYBE OMISSIONS AND ERRORS IN THIS RESEARCH.
JANUARY 13, 1999

NAME OF EMPLOYEE'S

AGRI, ROBERT
AINSLE, MILDRED
ALBERT, HELEN
ALDEN, JANICE
AMIDON, FRED
AMIDON, MILDRED T.
AYALA, ANN
BABCOCK, B. J.
BARR, ARLENE
BARTMEN, DOT
BATES, ARTHUR S.
BIRT, HELEN L.
BOWEN, DANIEL
BRITT, DORINDA
BROWN, HELEN
BURKE, DONNA M.
CALLAHAN, LUCY
CARMILLO
CHANDLER, ALICE
CHATFIELD, WILLIAM
CHRISTENSEN, NIEL
CHEESEMAN, ROBERT F.
CHEESMAN, MICHELLE
CLAWSON, ADAM
CLEVELAND, DEAN
COCHRAN, IRENE
COCHRAN, LAFAYETTE A.
CONNOLLY, J.
COOK, DIANE
COPPENRATH, MATTHEW
COSTELLO, ESTER
COURNEY J.P.
COYNE, TIM
CREGHAN, JOSEPH
CURRAN, THOMAS
DARGAN, MADELYN
DAVIDSON
DAVIDSON, JAMES
DENVER, FRANK
DEXTER, BRENDA
DIGREGIO, MARY
DION, RICHARD
DOUGHTY, SCOTT
DRAKE, HELEN
ENGLISH, BEVERLY
EWELL (SINNOTT), LILLIAN
FARMER, JAMES
FLETCHER, ALFRED
FLETCHER, EDWARD N.
FLETCHER, MILDRED W.
FLINT, DAVID
FLUTZ, DONNA
FLYNN, DAVID
FONTAINE, SALLY
FORSYTH, MARIE
FRANCIS, STEVEN
FRANCIS, SUSAN
GAFFNEY, CHRISTINE
GAFFNEY, JOHN
GALLAGHER, ARNOLD
GALLANT, SUSAN
GALLUP, KAREN P.
GARICA, ARTHUR
GASPAR, DAVID
GEHRING, PENNY
GIBBS, SARAH
GILBERT, STEPHEN
GLOD, ANDREA
GONSALVES, LYNN
GREEN, JOSEPH
GREENWOOD, ALLEN
GRYGOL, EVELYN
GUNN, HAZEL F
GUNTHER, MELANIE
GUSTAFSON, CARL J.
HADDAD, JAMES
HANLON, CHRISTINE
HARRINGTON, JOHN
HARRIS, RANDY
HAYES, ESTER P.
HERMANSON
HIGGINS, CHERYL
HILL, JEFF
HODGES, LLOYD
HOFFMAN, CAROLYN
HOLMES, PATRICIA
HOLT, KATHLEEN
HUBBARD, GLEN
HUCKING, DOUG
HUDDELSON, MARIE
JORDON, CAROLYN
JORGENSEN, BARBARA
KANE, JOHN
KEARNS, DENIS
KEEN, EDWARD
KENNEY, MARION
KERWIN, LINDA
KHOURY, RICHARD
KINSLEY, HENRY
KOON, STEVE
LEE, THOMAS
LIBBY, CHESTER
LUND, ALICE
MACKENZIE, ROBERT
MACKIN
MATULAITIS, DIANE
McCARTHY, NANCY
McFADD, RICHARD
McGONAGLE, KAREN
McGONAGLE, WILLIAM J
McINTYRE, ALMA
McSHERRY, JOHN
MELONE, PATRICIA
MITCHELL, HENRY
MOORE, GARY
MOORE, KENNETH B.
MOUNCE, HARRY
MURPHY, ERIN
MURRAY, BARBARA D.
NIELSEN, PHYLLIS
NOONAN, WILLIAM E.
O'CONNOR, RICHARD
O'GRADY, GLORIA G.
O'LEARY, MEGAN
OLSON, STEVE
ORD, RODNEY
ORD, SHIRLEY
PARSONS, EDWIN
PATCHETT, LINDA
PATCHETT, ROY
PAULDING, CORNELIUS C.
PEARCE, BARBARA M.
PHINNEY, EDWARD J.
PITTMAN, JOSEPH
POLLARD, JANE
RAMSEY, MIKE
RAMSOM, MARIE A.
REAL, JODY
REARDON, JANET
ROGERS, CYNDI
REGO, CHERYL
ROBERTS, JEANNIE
ROBINSON, TAMMY
ROSENBLUM, PATRICIA
RUGANI, ALICE
RULL, KATHLEEN F.
SARGENT, CONNIE
SHANLEY, SUE
SHEA, MICHAEL
SHOULLA, ELIZABETH A.
SHOULLA, RICHARD
SILVERMAN, ALLEN
SIMPSON, MARY
SIGNORIELLO, FRANK
SNOW
SPINNEY, RUSSELL
STEVENS, GERRY
STEVENSON, JACK
STONE, CYNTHIA
STUDLEY, MARY
SULLIVAN, D.
SULLIVAN, KATHLEEN
SULLIVAN, WILLIAM
SWEET, BETTYLOU
TRACY, RICHARD
TRIBUNA, LOUISE M.
VICKERS, ALLEN
VICKERS, JOSEPH
VINING (LAMBERT) KATHLEEN
WALKINS, JAMES J.
WARFORD, ANTHONY W.
WATMOUGH, DOUG
WETMORE, DAVID
WHALIN, BEATRICE
WHELAN, WILLIAM T.
WHITTAKER, PAM
WILLIAMS, JOSEPH W.
WILLIAMS, LEO J.
WILLIAMS, MARY
WYNNE, MICHAEL
WYNNE, ROBERT

POST OFFICE HISTORY "IN OUR PARENTS TIME"

BY: ROBERT F. CHEESEMAN
40 SOMERVILLE STREET
MARSHFIELD, MA 02050-4557
SOURCE: U.S.POSTAL PUBLICATION 100
COLONIAL TIMES
ON JULY 26,1775, MEMBERS OF THE SECOND CONTINENTAL CONGRESS MEETING AT PHILADELPHIA, AGREED " THAT A POSTMASTER GENERAL BE APPOINTED FOR THE UNITED STATES, WHO SHALL HOLD HIS OFFICE AT PHILADELPHIA, AND SHALL BE ALLOWED A SALARY OF 1,000 DOLLARS PER ANNUM".

THIS SIMPLE, UN-DRAMATIC STATEMENT SIGNALED THE BIRTH OF THE POST OFFICE DEPARTMENT, THE PREDECESSOR OF THE UNITED STATES POSTAL SERVICE AND THE SECOND OLDEST DEPARTMENT OR AGENCY OF THE PRESENT UNITED STATES OF AMERICA.
IT WAS MORE THEN A HUNDRED YEARS EARLIER, HOWEVER, THAT THE FIRST OFFICIAL NOTICE OF A POSTAL SERVICE HAD APPEARED IN COLONIAL AMERICA.

IN 1639, THE GENERAL COURT OF MASSACHUSETTS HAD DESIGNATED RICHARD FAIRBANKS' TAVERN IN BOSTON AS THE OFFICIAL REPOSITORY FOR MAIL BROUGHT FROM OR SENT OVERSEAS, IN LINE WITH A PRACTICE LONG USED IN ENGLAND AND OTHER CIVILIZED NATIONS TO USE COFFEE HOUSES AND TAVERNS AS MAIL DROPS.

FOR A FULL HALF-CENTURY AFTER THE FIRST REGULATION APPROVED IN MASSACHUSETTS, LOCAL AUTHORITIES OPERATED POST ROUTES SERVING THE COLONIES. IN 1673, GOVERNOR LOVELACE OF NEW YORK SET UP A MONTHLY POST BETWEEN NEW YORK AND BOSTON. THE SERVICE WAS OF SHORT DURATION, BUT THE POSTMAN'S TRAIL BECAME THE BOSTON POST ROAD, TODAY'S U.S. ROUTE 1.
WILLIAM PENN SET UP PENNSYLVANIA'S FIRST POST OFFICE IN 1683. IN THE SOUTH, A PRIVATE MESSENGER SERVICE USUALLY SLAVES, CONNECTED AND UNIFIED THE HUGE PLANTATIONS: A HOGSHEAD OF TOBACCO WAS THE PENALTY FOR FAILING TO DELIVER MAIL TO THE NEXT PLANTATION.

CENTRAL POSTAL ORGANIZATION CAME TO THE COLONIES ONLY AFTER 1691, WHEN THOMAS NEALE RECEIVED A 21-YEAR GRANT FROM THE BRITISH CROWN FOR A NORTH AMERICAN POSTAL SERVICE AND APPOINTED ANDREW HAMILTON, GOVERNOR OF NEW JERSEY, AS HIS DEPUTY POSTMASTER GENERAL.
NEALE NEVER CAME TO AMERICA, ALTHOUGH HIS FRANCHISE COST HIM ONLY 80 CENTS A YEAR, IT WAS APPARENTLY NO BARGAIN; HE DIED HEAVILY IN DEBT, IN 1699, AFTER ASSIGNING HIS INTEREST IN AMERICA TO ANDREW HAMILTON AND ANOTHER ENGLISHMAN, NAMED WEST.

IN 1707, THE BRITISH GOVERNMENT BOUGHT THE RIGHTS OF WEST AND THE WIDOW OF ANDREW HAMILTON AND APPOINTED JOHN HAMILTON, ANDREW'S SON, AS DEPUTY POSTMASTER GENERAL OF AMERICA.
HE SERVED UNTIL 1721, WHEN HE WAS SUCCEEDED BY JOHN LLOYD OF CHARLESTON, SOUTH CAROLINE. IN 1930, ALEXANDER SPOTSWOOD, A FORMER LIEUTENANT GOVERNOR OF VIRGINIA, BECAME DEPUTY POSTMASTER GENERAL FOR AMERICA.
HIS MOST NOTABLE ACHIEVEMENT PROBABLY WAS THE APPOINTMENT OF BENJAMIN FRANKLIN AS POSTMASTER OF PHILADELPHIA IN 1737.
WHEN BENJAMIN FRANKLIN BECAME POSTMASTER OF PHILADELPHIA, HE WAS ONLY 31 YEARS OLD AND AT THE BEGINNING OF HIS CAREER. LATER HE WAS TO BECOME THE MOST POPULAR MAN OF HIS AGE BUT HE WAS THEN A SOMEWHAT UNSUCCESSFUL PRINTER / PUBLISHER OF " THE PENNSYLVANIA GAZETTE. "
HEAD LYNCH SUCCEEDED SPOTSWOOD IN 1739, AND IN 1743 ELLIOT BENGER FOLLOWED LYNCH, WHEN BENGER DIED IN 1753, BENJAMIN FRANKLIN AND WILLIAM HUNTER, POSTMASTER AT WILLIAMBURG, VIRGINIA, WERE APPOINTED BY THE CROWN AS JOINT POSTMASTERS GENERAL FOR THE COLONIES.
HUNTER DIED IN 1761 AND JOHN FOXCROFT OF NEW YORK SUCCEEDED HIM, SERVING UNTIL THE OUTBREAK OF THE REVOLUTION. AS A JOINT POSTMASTER GENERAL FOR THE CROWN, BENJAMIN FRANKLIN EFFECTED MANY IMPORTANT LASTING IMPROVEMENTS IN THE COLONIAL POSTS.
HE IMMEDIATELY BEGAN TO REORGANIZE THE SERVICE, SETTING OUT ON A LONG TOUR OF INSPECTION OF ALL POST OFFICES IN THE NORTH AND AS FAR SOUTH AS VIRGINIA.
NEW SURVEYS WERE MADE, MILESTONES WERE SET UPON PRINCIPAL ROADS, AND NEW AND SHORTER ROUST LAID OUT, MAIL WAS CARRIED BY NIGHT BETWEEN PHILADELPHIA AND NEW YORK, AND TRIPS WERE INAUGURATED WEEKLY BETWEEN PHILADELPHIA AND BOSTON, SHORTENING THE TRAVEL BY AT LEAST ONE HALF.
BY 1760, FRANKLIN WAS ABLE TO REPORT HIS FIRST SURPLUS TO THE BRITISH POSTMASTER GENERAL. WHEN HE LEFT OFFICE, POST ROADS WERE IN OPERATION FROM MAINE TO FLORIDA AND FROM NEW YORK TO CANADA, AND MAIL BETWEEN THE COLONIES AND THE MOTHER COUNTRY OPERATED ON A REGULAR SCHEDULE.
BY 1774, HOWEVER THE COLONIST WERE VIEWING THE ROYAL POST OFFICE WITH SOME SUSPICION, AND IN THAT YEAR BENJAMIN FRANKLIN WAS DISMISSED BY THE CROWN FOR ACTIONS SYMPATHETIC TO THE CAUSE OF THE COLONIST.
SHORTLY AFTER THAT, WILLIAM GODDARD, A PRINTER AND NEWSPAPER PUBLISHER (WHOSE FATHER HAD BEEN POSTMASTER OF NEW LONDON UNDER (FRANKLIN), SET UP A CONSTITUTIONAL POST FOR INTER-COLONIAL MAIL SERVICE.
BY 1775, WHEN THE CONTINENTAL CONGRESS MET AT PHILADELPHIA, GODDARD'S INDEPENDENT POST WAS FLOURISHING AND THIRTY OFFICES WERE IN OPERATION BETWEEN PORTSMOUTH AND WILLIAMSBURG.
CONTINENTAL TIMES - AFTER THE BOSTON RIOTS IN SEPTEMBER 1774, IT HAD BECOME INEVITABLE THAT THE COLONIES WOULD SEPARATE FROM THE MOTHER COUNTRY.
A CONTINENTAL CONGRESS WAS ORGANIZED AT PHILADELPHIA IN MAY 1775, FOR THE PURPOSE OF ESTABLISHING A SEPARATE GOVERNMENT, AND ONE OF THE FIRST QUESTIONS BEFORE THE DELEGATES WAS HOW TO CONVEY AND DELIVER THE MAIL.
BENJAMIN FRANKLIN, NEWLY RETURNED FROM ENGLAND, WAS APPOINTED CHAIRMAN OF A COMMITTEE OF INVESTIGATION TO ESTABLISH A POSTAL SYSTEM.
THE REPORT OF THE COMMITTEE, PROVIDING FOR THE APPOINTMENT OF A POSTMASTER GENERAL FOR THE 13 AMERICAN COLONIES, WAS CONSIDERED BY THE CONTINENTAL CONGRESS ON JULY 25 AND 26, AND ON JULY 26, 1775, FRANKLIN WAS APPOINTED POSTMASTER GENERAL, THE FIRST POSTMASTER GENERAL APPOINTED UNDER THE CONTINENTAL CONGRESS.
RICHARD BACHE, HIS SON-IN-LAW, WAS NAMED COMPTROLLER AND WILLIAM GODDARD WAS APPOINTED SURVEYOR.
FRANKLIN SERVED AS POSTMASTER GENERAL UNTIL NOVEMBER 7, 1776. AMERICA'S PRESENT POSTAL SERVICE DESCENDS IN AN UNBROKEN LINE FROM THE SYSTEM HE PLANNED AND PLACED IN OPERATION, AND HISTORY RIGHTFULLY ACCORDS HIM MAJOR CREDIT FOR ESTABLISHING THE BASIS OF A POSTAL SERVICE THAT HAS PERFORMED MAGNIFICENTLY FOR THE AMERICAN PEOPLE.
IN 1778, ARTICLE IX OF THE ARTICLES OF CONFEDERATION GAVE CONGRESS " THE SOLE AND EXCLUSIVE RIGHT AND POWER - ESTABLISHING AND REGULATING POST OFFICES FROM ONE STATE TO ANOTHER - AND EXACTING SUCH POSTAGE ON PAPER PASSING THROUGH THE SAME AS MAY BE REQUISITE TO DEFRAY THE EXPENSES OF THE SAID OFFICE " POSTAL LAWS AND REGULATIONS WERE REVISED AND CODIFIED IN THE ORDINANCE OF OCTOBER 18,1782.
POST OFFICE DEPARTMENT FOLLOWING THE FINAL ADOPTION OF THE CONSTITUTION IN MARCH 1789, AN ACT OF SEPTEMBER 22, 1789, (1 STAT. 70), TEMPORARILY ESTABLISHED A POST OFFICE AND CREATED THE OFFICE OF POSTMASTER GENERAL UNDER THE TREASURY, AND ON SEPTEMBER 26, 1789, GEORGE WASHINGTON APPOINTED SAMUEL OSGOOD OF MASSACHUSETTS AS THE FIRST POSTMASTER GENERAL UNDER THE CONSTITUTION.
AT THAT TIME THERE WERE 75 POST OFFICES AND ABOUT 2,000 MILES OF POST ROADS BUT, AS LATE AS 1780, THE POSTAL STAFF STILL ONLY CONSISTED OF A POSTMASTER GENERAL, A SECRETARY / COMPTROLLER, THREE SURVEYORS, ONE INSPECTOR OF DEAD LETTERS, AND 26 POST RIDERS.
THE POSTAL SERVICE WAS TEMPORARILY CONTINUED BY THE ACT OF AUGUST 4, 1790 (1 STAT 178), AND THE ACT OF MARCH 3, 1791 (1 STAT 218).
AN ACT OF FEBRUARY 20, 1792, MADE DETAILED PROVISIONS FOR THE POST OFFICE DEPARTMENT, AND SUBSEQUENT LEGISLATION ENLARGED THE DUTIES OF THE DEPARTMENT, STRENGTHENED AND UNIFIED ITS ORGANIZATION, AND PROVIDED RULES AND REGULATIONS FOR ITS DEVELOPMENT.
PHILADELPHIA WAS THE SEAT OF GOVERNMENT AND POSTAL HEADQUARTERS UNTIL 1800. WHEN THE POST OFFICE DEPARTMENT MOVED TO WASHINGTON IN THE YEAR, OFFICIALS WERE ABLE TO CARRY ALL POSTAL RECORDS, FURNITURE, AND SUPPLIES IN TWO WAGONS.
IN 1829, UPON THE INVITATION OF PRESIDENT ANDREW JACKSON, WILLIAM T. BARRY BECAME THE FIRST POSTMASTER GENERAL TO SIT AS A MEMBER OF THE PRESIDENT'S CABINET.
ON JUNE 8, 1872 (17 STAT. 284-4), THE POST OFFICE DEPARTMENT WAS SPECIFICALLY ESTABLISHED BY THE CONGRESS AS AN EXECUTIVE DEPARTMENT.
POSTAL ROLE IN THE SOCIAL AND ECONOMIC DEVELOPMENT OF THE US BETWEEN THE REVOLUTION PERIOD AND THE FIRST WORLD WAR, U.S. POSTAL OFFICIAL APPLIED THEMSELVES TO IMPROVING TRANSPORTATION OF THE MAILS, AND FROM THE FIRST DAYS OF INDEPENDENCE TO THE PRESENT, THE POSTAL SERVICE HAS BEEN INSTRUMENTAL IN DEVELOPING AND SUBSIDIZING EVERY NEW MODE OF TRANSPORTATION IN THE UNITED STATES. THE POSTAL ROLE WAS A NATURAL ONE, APART FROM POSTAL PEOPLE THEMSELVES, TRANSPORTATION WAS THE SINGLE MOST IMPORTANT ELEMENT IN MAIL DELIVERY, LITERALLY, THE LEGS OF COMMUNICATION.
EVEN THROUGH THE GENERAL PUBLIC WAS SKEPTICAL OR FEARFUL OF EACH NEW MEANS OF TRANSPORTATION THAT INCREASED SPEED, POSTAL OFFICIALS EXPERIMENTED WITH EVERY INVENTION THAT OFFERED POTENTIAL FOR MOVING THE MAIL FASTER, OFTEN SUFFERING EMBARRASSMENT, RIDICULE, OR EVEN ABUSE, IN THE PROCESS.
AS MAIL DELIVERY EVOLVED FROM FOOT TO HORSEBACK, TO STAGE, STEAMBOAT, RAILROAD, AUTOMOBILE, AND AIR-PLANE, WITH INTERMEDIATE AND OVERLAPPING USE OF BALLOONS, HELICOPTERS, AND PNEUMATIC TUBES, THE LARGEST SINGLE INSURANCE AVAILABLE TO DEVELOPING TRANSPORTS FOR THE INCOME NECESSARY TO BUILD THE GREAT HIGHWAYS, RAIL LANES, AND AIRWAYS THAT EVENTUALLY SPANNED THE CONTINENT WAS MAIL CONTRACTS.
BY THE TURN OF THE 18TH CENTURY, THE POST OFFICE HAD BOUGHT A NUMBER OF STAGE COACHES FOR OPERATION ON THE NATION'S BETTER POST ROAD WHILE CONTINUING TO ENCOURAGE NEW DESIGNS FOR IMPROVING PASSENGER COMFORT AND SAFER CARRIAGE OF THE MAIL.
TEN YEARS BEFORE WATERWAYS WAS DECLARED POST ROADS IN 1823; THE POST OFFICE WAS USING STEAMBOATS TO CARRY MAIL BETWEEN POST TOWNS WHERE NO ROADS EXISTED.
IN 1831, WHEN STEAM-DRIVEN ENGINES " TRAVELING AT THE UNCONSCIONABLE SPEED OF 15 MILES AN HOUR " WERE STILL DENOUNCED AS A " DEVICE OF SATAN TO LEAD IMMORTAL SOULS TO HELL ", THE POST OFFICE BEGAN TO USE THE RAILROAD TO CARRY MAIL CARGO FOR SHORT DISTANCES, AND BY 1836, TWO YEARS BEFORE RAILROADS WERE CONSTITUTED POST ROADS, IT HAD AWARDED ITS FIRST MAIL CONTRACT TO THE RAILROADS.
PONY EXPRESS IN THE MEANTIME, EARLY IN THE 19TH CENTURY, THE POPULATION OF THE UNITED STATES HAD BEGUN FLOWING STEADILY WESTWARD INTO THE NEWLY ACQUIRED TERRITORIES OF LOUISIANA, OREGON, AND CALIFORNIA.
WAGON TRAINS INCHED ALONE THE OLD SANTA FE, MORMON, AND OREGON TRAILS, THEIR PASSENGERS MORE OFTEN THEN NOT DECIMATED BY INDIAN ATTACKS, HUNGER, DISEASE, AND PESTILENCE.
AFTER THE DISCOVERY OF GOLD IN 1848, THE PIONEER MOVEMENT QUICKENED, AND IN THAT YEAR THE POST OFFICE AWARDED A CONTRACT TO THE PACIFIC MAIL STEAMSHIP COMPANY TO CARRY MAIL TO CALIFORNIA.
UNDER THIS CONTRACT, THE MAIL TRAVELED BY SHIP FROM NEW YORK TO PANAMA, MOVED ACROSS PANAMA BY RAIL, AND WENT ON TO SAN FRANCISCO BY SHIP.
UNDER NORMAL CONDITIONS, IT WAS SUPPOSED TO TAKE THREE OR FOUR WEEKS TO RECEIVE A LETTER FROM THE EAST, BUT THIS NORM WAS SELDOM ACHIEVED.
SOME OVERLAND MAIL HAD BEEN REACHING CALIFORNIA AS EARLY AS 1848, IF ERRATICALLY, VIA THE MILITARY THROUGH FORT LEAVENWORTH AND SANTA FE.
SCHEDULED OVERLAND SERVICE FOR SEMI-WEEKLY TRIPS, HOWEVER, DID NOT BEGIN UNTIL SEPTEMBER 15, 1858, AFTER THE POST OFFICE HAD ISSUED A MAIL CONTRACT TO THE OVERLAND MAIL COMPANY STAGE LINE OF JOHN BUTTERFIELD, WHOSE STAGES USED THE 2800-MILE SOUTHERN ROUTE BETWEEN TIPTON, MISSOURI, AND SAN FRANCISCO.
ALTHOUGH THE SPECIFIED RUNNING TIME WAS 24 DAYS, AS A PRACTICAL MATTER CROSS-COUNTRY MAIL WAS OFTEN DELAYED FOR MONTHS.
CALIFORNIANS FELT THEIR ISOLATION KEENLY. LOS ANGELES, FOR EXAMPLE, LEARNED THAT CALIFORNIA HAD BEEN ADMITTED TO THE UNION FULLY SIX WEEKS AFTER THE FACT.
FIVE YEARS LATER, IN 1853, THE LOS ANGELES STAR SOMEWHAT PLAINTIVELY ASKED ITS READERS: " CAN SOMEBODY TELL US WHAT HAS BECOME OF THE U.S. MAIL FOR THIS SECTION OF THE WORLD?
SOME FOUR WEEKS SINCE IT HAS ARRIVED HERE. THE RIDER COMES AND GOES REGULARLY ENOUGH BUT THE MAIL BAGS DO NOT.
ONE TIME HE SAYS THE MAIL IS NOT LANDED IN SAN DIEGO; ANOTHER TIME THERE WAS SO MUCH OF IT THE DONKEY COULD NOT BRING IT, AND HE SENT IT TO SAN PEDRO ON THE STEAMER, WHICH CARRIED IT UP TO SAN FRANCISCO.
THUS IT GOES WANDERING UP AND DOWN THE OCEAN ". IT WAS ABUNDANTLY CLEAR THAT FASTER TRANSPORTATION WAS NEEDED TO THE PACIFIC.
IN MARCH 1860, WILLIAM H. RUSSELL, AN AMERICAN TRANSPORTATION PIONEER, ADVERTISED IN NEWSPAPERS AS FOLLOWS:
" WANTED: YOUNG, SKINNY, WIRY FELLOWS NOT OVER 18. MUST BE EXPERT RIDERS WILLING TO RISK DEATH DAILY? ORPHANS PREFERRED."
RUSSELL HAD FAILED REPEATEDLY TO GET BACKING FROM THE SENATE POST OFFICE AND POST ROADS COMMITTEE FOR AN EXPRESS ROUTE TO CARRY MAIL BETWEEN ST. JOSEPH, MISSOURI, AND THE WESTERN MOST POINT REACHED BY THE RAILROAD AND TELEGRAPH, AND CALIFORNIA.
ST. JOSEPH WAS THE STRATEGIC STARTING POINT FOR THE DIRECT 2000-MILE CENTRAL ROUTE TO THE WEST.
EXCEPT FOR A FEW FORTS AND SETTLEMENTS, HOWEVER, THE ROUTE BEYOND ST. JOSEPH WAS A VAST, SILENT WILDERNESS, INHABITED PRIMARILY BY INDIANS.
TRANSPORTATION ACROSS THIS AREA ON A YEAR ROUND BASIS WAS GENERALLY BELIEVED IMPOSSIBLE BECAUSE OF EXTREME WEATHER CONDITION.
RUSSELL, HOWEVER, BELIEVED IT WAS FEASIBLE YEAR ROUND AND WAS READY TO ORGANIZED HIS OWN EXPRESS, WITH OR WITHOUT A MAIL CONTRACT, TO PROVE IT.
AS A FIRST STEP, RUSSELL AND HIS TWO PARTNERS, MAJORS AND WADDELL, FORMED THE CENTRAL OVERLAND CALIFORNIA AND PIKES PEAK EXPRESS COMPANY. THEY WENT ON TO BUILD NEW RELAY STATIONS AND TO READY EXISTED ONES FOR USE.
THE COUNTRY WAS COMBED FOR GOOD HORSEFLESH, ANIMALS HARDY ENOUGH TO CHALLENGE DESERT AND MOUNTAINS AND TO WITH STAND THIRST IN SUMMER AND ICE IN WINTER.
RIDERS WERE RECRUITED HASTILY, BUT BEFORE BEING HIRED HAD TO SWEAR ON A BIBLE NOT TO " CUSS, " FIGHT, OR ABUSE THEIR ANIMALS AND TO CONDUCT THEMSELVES HONESTLY.
STARTING ON APRIL 3, 1860, THE PONY EXPRESS RAN THROUGH PART OF MISSOURI, KANSAS, NEBRASKA, COLORADO, WYOMING, UTAH, NEVADA, AND CALIFORNIA. ON AN AVERAGE DAY, A RIDER MADE 75 TO 100 MILES. HE CHANGED HORSES AT RELAY STATIONS, SET ABOUT 10 TO 15 MILES APART, TRANSFERRING HIMSELF AND HIS " MOCHILA, " (A SADDLE COVER WITH FOUR POCKETS OR CANTINAS FOR MAIL),
TO THE NEW MOUNT, ALL IN ONE LEAP.
THE FIRST MAIL BY PONY EXPRESS VIA THE CENTRAL ROUTE FROM ST. JOSEPH TO SACRAMENTO TOOK TEN AN HALF DAYS, CUTTING THE OVERLAND STAGE TIME VIA THE SOUTHERN ROUTE BY MORE THEN HALF.
THE FASTEST DELIVERY TIME WAS IN MARCH 1861, WHEN THE INAUGURAL ADDRESS OF PRESIDENT LINCOLN WAS CARRIED IN SEVEN DAYS AND 17 HOURS.
FROM APRIL 1860 TO JULY 1861, THE PONY EXPRESS OPERATED AS A PRIVATE ENTERPRISE. AFTER JULY 1, 1861, IT WAS OPERATED UNDER CONTRACT AS A MAIL ROUTE UNTIL OCTOBER 24 THAT SAME YEAR WHEN THE TRANSCONTINENTAL TELEGRAPH LINE WAS COMPLETED AND THE PONY EXPRESS BECAME A LEGEND.
ALTHOUGH THE PONY EXPRESS OPERATED LESS THEN 19 MONTHS, THEY WERE HEROIC AND DRAMATIC MONTHS THAT COMPRESSED INTO A FEW PAGES THE ROMANCE AND ESSENCE OF AMERICA'S PIONEER HISTORY, AN ACTUAL VENTURE THAT ECLIPSES ANY WESTERN FICTION PUBLISHED SINCE.
POSTMASTERS GENERAL
A LIST OF POSTMASTERS GENERAL, UNDER THE NAMES OF WHO APPOINTED THEM, AND THE DATES THE POSTMASTER GENERAL TOOK OFFICE. ALL APPOINTMENTS BY THE PRESIDENT WERE MADE WITH THE ADVICE AND CONSENT OF THE SENATE.
CONTINENTAL CONGRESS
BENJAMIN FRANKLIN JULY26, 1775
RICHARD BACHE NOV.7, 1776
EBENEZER HAZARD JAN.28, 1782

GEORGE WASHINGTON
SAMUEL OSGOOD SEPT.26, 1789
TIMOTHY PICKERING AUG.12, 1791
JOSEPH HABERSHAM FEB.25, 1795
JOHN ADAMS
JOSEPH HABERSHAM (ABOVE)
THOMAS JEFFERSON
JOSEPH HASERSHAM (ABOVE)
GIDEON GRANGER NOV. 28,1801
JAMES MADISON
GIDEON GRANGER (ABOVE)
RETURN J. MEIGS JR. MARCH 17,1814
JAMES MONROE
RETURN J. MEIGS JR. (ABOVE)
JOHN McLean JUNE 26, 1823
JOHN QUINCY ADAMS
JOHN McLean (ABOVE)

ANDREW JACKSON
WILLIAM T. BARRY MARCH 9, 1829
AMOS KENDALL MAY 1, 1835
MARTIN VAN BUREN
AMOS KENDALL (ABOVE)
JOHN M. NILES MAY 19,1840
WILLIAM HENRY HARRISON
FRANCIS GRANGER MARCH 6, 1841
JOHN TYLER
FRANCIS GRANGER (ABOVE)
CHARLES A. WICKLIFFE SEPT. 13, 1841
JAMES K. POLK
CAVE JOHNSON MARCH 6, 1845
ZACHARY TAYLOR
JACOB COLLAMER MARCH 8, 1849
MILLARD FILLMORE
NATHAN K. HALL JULY 23, 1850
SAMUEL D. HUBBARD AUG. 31, 1852
FRANKLIN PIERCE
JAMES CAMPBELL MARCH 7, 1853
JAMES BUCHANAN
ARON V. BROWN MARCH 6, 1857
JOSEPH HOLT MARCH 14, 1859
HORATIO KING FEB. 12, 1861
ABRAHAM LINCOLN
MONTGOMERY BLAIR MARCH 5, 1861
WILLIAM DENNISON SEPT. 24, 1864
ANDREW JOHNSON
WILLIAM DENNISON (ABOVE)
ALEXANDER W. RANDALL JULY 25, 1866
ULYSSES GRANT
JOHN A. CRESWELL MARCH 5, 1869
JAMES W. MARSHALL JULY 3, 1874
MARSHALL JEWELL AUG. 24, 1874
JAMES N. TYNER JULY 12, 1876
RUTHERFORD B. HAYES
DAVID M. KEY MARCH 12, 1877
HORACE MAYNARD JUNE 2, 1880
JAMES A. GARFIELD
THOMAS L. JAMES MARCH 5, 1881
CHESTER A. ARTHUR
THOMAS L. JAMES (ABOVE)
TIMOTHY O. HOWE DEC. 20, 1881
WALTER Q. GRESHAM APRIL 3. 1883
FRANK HATTON OCT. 14, 1884
GROVER CLEVELAND
WILLIAM F. VILAS MARCH 6, 1885
DON M. DICKINSON JAN. 6, 1888
BENJAMIN HARRISON
JOHN WANAMAKER MARCH 5, 1889
GROVER CLEVELAND
WILSON S. BISSELL MARCH 6, 1893
WILLIAM L. WILSON MARCH 1, 1895
WILLIAM McKinley
JAMES A. GARY MARCH 5, 1897
CHARLES EMORY SMITH APRIL 21, 1898
THEODORE ROOSEVELT
CHARLES EMORY SMITH (ABOVE)
HENRY C. PAYNE JAN. 9, 1902
ROBERT J. WYNNE OCT. 10, 1904
GEORGE B. CORTELYOU MARCH 6, 1905
GEORGE VON L. MEYER JAN. 15, 1907
WILLIAM H. TAFT
FRANK H. HITCHCOCK MARCH 5, 1909
WOODROW WILSON
ALBERT S. BURLESON MARCH 5, 1913
WARREN G. HARDING
WILL H. HAYES MARCH 5, 1921
HUBERT WORK MARCH 4, 1922
HARRY S. NEW FEB. 27, 1923
CALVIN COOLIDGE
HARRY S. NEW (ABOVE)
HERBERT HOOVER
WALTER F. BROWN MARCH 5, 1929
FRANKLIN D. ROOSEVELT
JAMES A. FARLEY MARCH 4, 1933
FRANK C. WALKER SEPT. 10, 1940
HARRY S. TRUMAN
FRANK C. WALKER (ABOVE)
ROBERT E. HANNEGAN MAY 8, 1945
JESSE M. DONALDSON DEC. 16, 1947
DWIGHT D. EISENHOWER
ARTHUR E. SUMMERFIELD JAN. 21, 1953
JOHN F. KENNEDY
J. EDWARD DAY JAN. 21, 1961
JOHN A. GRONOUSKI SEPT. 30, 1963
LYNDON B. JOHNSON
JOHN A. GRONOUSKI (ABOVE)
LAWRENCE F. O'BRIEN NOV. 3, 1965
W. MARVIN WATSON APRIL 26, 1968
RICHARD M. NIXON
WINTON M. BLOUNT JAN. 22, 1969
THE FOLLOWING APPOINTED BY THE GOVERNORS OF THE UNITED STATES POSTAL SERVICE
WINTON M. BLOUNT JULY 1, 1971
E.T. KLASSEN JAN. 1, 1972
BENJAMIN F. BAILAR FEB. 16, 1975
WILLIAM F. BOLGER MARCH 15, 1978
PAUL N. CARLIN JAN. 1, 1985
ALBERT V. CASEY JAN. 7, 1986
PRESTON R. TISCH AUG. 16, 1986
ANTHONY M. FRANK MARCH 12, 1988
MARVIN T. RUNYON JULY 16, 1992
WILLIAM J.HENDERSON MAY 16, 1998
WITH BENJAMIN FRANKLIN UNDER THE CONTINENTAL CONGRESS, 71 MEN HAVE HELD THE OFFICE OF POSTMASTER GENERAL OF THE UNITED STATES.
BEGINNING WITH SAMUEL OSGOOD, THE FIRST POSTMASTER GENERAL APPOINTED AFTER THE ADOPTION OF THE CONSTITUTION, 68 MEN HAVE HELD THAT OFFICE.
SIGNIFICANT DATES IN POSTAL HISTORY
1639
RICHARD FAIRBANKS TAVERN IN BOSTON NAMED REPOSITORY FOR OVERSEAS MAIL
1775
BENJAMIN FRANKLIN, FIRST POSTMASTER GENERAL UNDER CONTINENTAL CONGRESS
1789
SAMUEL OSGOOD, FIRST POSTMASTER GENERAL UNDER CONSTITUTION
1823
NAVIGABLE WATERS DESIGNATED POST ROADS BY CONGRESS
1825
DEAD LETTER OFFICE
1829
POSTMASTER GENERAL JOINS CABINET
1830
OFFICE OF INSTRUCTION AND MAIL DEPREDATION ESTABLISHED, LATER OFFICE OF THE CHIEF POSTAL INSPECTOR
1838
RAILROAD DESIGNATED POST ROUTES BY CONGRESS
1845
STAR ROUTES
1847
POSTAGE STAMPS
1852
STAMPED ENVELOPES
1855
REGISTERED MAIL
1858
STREET MAIL BOXES
1860
PONY EXPRESS
1862
RAILWAY MAIL SERVICE, EXPERIMENTAL
1863
FREE CITY DELIVERY
UNIFORM POSTAGE RATES, REGARDLESS OF DISTANCE
DOMESTIC MAIL DIVIDED INTO THREE CLASSES
1864
POST OFFICE CATEGORIZED BY CLASS
RAILROAD POST OFFICES
DOMESTIC MONEY ORDERS
1869
FOREIGN OR INTERNATIONAL MONEY ORDERS
1872
CONGRESS ENACTS MAIL FRAUD STATUTE
1873
PENNY POST CARD
1874
GENERAL POSTAL UNION (LATER UNIVERSAL POSTAL UNION)
1879
DOMESTIC MAIL DIVIDED INTO FOUR CLASSES
1880
CONGRESS ESTABLISHES TITLE OF CHIEF POST OFFICE INSPECTOR
1885
SPECIAL DELIVERY
1887
INTERNATIONAL PARCEL POST
1893
FIRST COMMEMORATIVE STAMPS
1896
RURAL FREE DELIVERY, EXPERIMENTAL
1898
PRIVATE POSTCARDS AUTHORIZED
1902
RURAL FREE DELIVERY, PERMANENT
1911
POSTAL SAVING SYSTEM
CARRIAGE OF MAIL BY AIRPLANE SANCTIONED BETWEEN GARDEN CITY AND MINEOLA, N.Y.: EARL H. OVERTON, FIRST U.S. MAIL PILOT
1912
VILLAGE DELIVERY
1913
PARCEL POST
INSURANCE
C.O.D. (COLLECT ON DELIVERY)
1914
GOVERNMENT-OWNED AND OPERATED VEHICLES SERVICE
1916
POSTAL INSPECTORS SOLVE LAST KNOWN STAGECOACH ROBBERY
1918
AIRMAIL
1920
METERED POSTAGE
FIRST TRANSCONTINENTAL AIRMAIL SERVICE
1925
SPECIAL HANDLING
1927
INTERNATIONAL AIRMAIL
1935
TRANS-PACIFIC AIRMAIL
1939
TRANS-ATLANTIC AIRMAIL
AUTOGIRO SERVICE, EXPERIMENTAL
1941
HIGHWAY POST OFFICE
1942
V-MAIL
1943
POSTAL ZONING SYSTEM IN 124 MAJOR POST OFFICES
1948
PARCEL POST INTERNATIONAL AIR SERVICE
PARCEL POST DOMESTIC AIR SERVICE
1950
RESIDENTIAL DELIVERERS CUT FROM TWO TO ONE A DAY
1953
PIGGY-BACK MAIL SERVICE BY TRAILERS OR RAILROAD FLATCARS
AIRLIFT
1955
CERTIFIED MAIL
1957
CITIZENS STAMP ADVISORY COMMITTEE
1959
MISSILE MAIL DISPATCHED FROM SUBMARINE TO MAINLAND FLORIDA
1960
FACSIMILE MAIL
1963
ZIP CODE AND SECTIONAL CENTER PLAN
1964
SELF-SERVICE POST OFFICES
SIMPLIFIED POSTMARKS
1965
OPTICAL SCANNER (ZIP CODE READER TESTED)
1966
POSTAL SAVING SYSTEM TERMINATED
1967
MANDATORY PRESORTING BY ZIP CODE FOR SECOND AND THIRD CLASS MAILERS
1968
PRIORITY MAIL, A SUBCLASS OF FIRST CLASS MAIL
1969
PATRONAGE NO LONGER A FACTOR IN POSTMASTER AND RURAL CARRIER APPOINTMENTS
FIRST DIE PROOF OF A POSTAGE STAMP CANCELED ON MOON BY
APOLLO 11 MISSION
1970
MAILGRAM
POSTAL REORGANIZATION ACT
EXPRESS MAIL, EXPERIMENTAL
1971
UNITED STATES POSTAL SERVICE BEGAN OPERATION:
POSTMASTER GENERAL NO LONGER IN CABINET.
LABOR CONTRACTS ACHIEVED THROUGH COLLECTIVE BARGAINING FOR THE FIRST TIME IN HISTORY OF FEDERAL GOVERNMENT.
STAR ROUTES CHANGED TO HIGHWAY CONTRACTS ROUTES.
NATIONAL SERVICE STANDARDS ESTABLISHED: OVERNIGHT DELIVERY OF 95 % OF AIRMAIL WITHIN 600 MILES AND 95 % OF FIRST CLASS WITHIN LOCAL AREAS
1972
STAMPS BY MAIL
PASSPORT APPLICATIONS ACCEPTED IN POST OFFICES
1973
NATIONAL SERVICE STANDARDS EXPANDED TO INCLUDE SECOND- DAY DELIVERY OF PARCEL POST TRAVELING UP TO 150 MILES, WITH ONE-DAY DELIVERY TIME ADDED FOR EACH ADDITIONAL 400 MILES
1974
HIGHWAY POST OFFICE TERMINATED
FIRST SATELLITE TRANSMISSION ELIMINATED
1976
POST OFFICE CLASS CATEGORIES ELIMINATED DISCOUNT FOR PRESORTED FIRST-CLASS MAIL
1977
AIRMAIL ABOLISHED AS A SEPARATE RATE CATEGORY
EXPRESS MAIL, PERMANENT NEW CLASS OF SERVICE
FINAL RUN OF RAILROAD POST OFFICE ON JUNE 30
1978
DISCOUNT FOR PRESORTED SECOND-CLASS MAIL
POSTAGE STAMPS AND OTHER PHILATELIC ITEMS COPYRIGHTED
1979
DISCOUNT FOR PRESORTED BULK THIRD-CLASS MAIL
POSTAL CAREER EXECUTIVE SERVICE (PCES)
NEW STANDARDS REQUIRE ENVELOPES AND POSTCARDS TO BE AT LEAST 3 1/2" HIGH AND 5 " LONG TO BE MAILBAG
1980
INTELPOST (HIGH-SPEED INTERNATIONAL ELECTRONIC MESSAGE SERVICE)
1981
CONTROLLED CIRCULATION CLASSIFICATION DISCONTINUED
DISCOUNT FOR FIRST-CLASS MAIL PRESORTED TO CARRIER ROUTES
1982
AUTOMATION BEGINS WITH INSTALLATION OF OPTICAL CHARACTER READERS
E-COM (ELECTRONIC COMPUTER-ORIGINATED MAIL, ELECTRONIC MESSAGE SERVICE WITH HARD COPY DELIVERY)
1983
ZIP + 4
ENDED PUBLIC SERVICE SUBSIDY FROM FEDERAL GOVERNMENT
1884
INTEGRATED RETAIL TERMINALS AUTOMATE POSTAL WINDOWS
1985
JACKIE STRANGE, FIRST FEMALE DEPUTY POSTMASTER GENERAL
E-COM TERMINATED
1986 INTERNATIONAL PRIORITY AIRMAIL
POSTAL SERVICE REALIGNED, FIELD DIVISIONS CREATED
1987 SMALL PARCEL AND BUNDLE SORTERS
STAMPS BY PHONE
MULTILINE OPTICAL CHARACTER READERS ORDERED
1988
INSPECTOR GENERAL'S ACT EXTENDS DUTIES OF CHIEF POSTAL INSPECTOR
1989
UNIVERSAL POSTAL UNION CONGRESS IN WASHINGTON, D.C.
INTERNATIONAL BUSINESS REPLY MAIL
1990
WIDE AREA BARCODE READERS
EASY STAMP, ALLOWING PURCHASE OF STAMPS THROUGH COMPUTERS
1991
INDEPENDENT MEASUREMENT OF FIRST-CLASS MAIL SERVICE
INTERNATIONAL BUSINESS REPLY SERVICE
1992
REMOTE BARRICADING SYSTEM
REORGANIZATION, REGIONS, DIVISIONS AND MANAGEMENT SECTIONAL CENTERS REPLACED BY AREA AND DISTRICT OFFICES FOR CUSTOMER SERVICE AND MAIL PROCESSING
STAMPS SOLD THROUGH AUTOMATIC TELLER MACHINES
U.S.POSTAL INFORMATION: